Bethel Seminary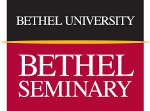 Bethel Seminary and Brazilian Church of Hope are partnering to make the pursuit of a seminary education easier and more affordable. Staff and members of Brazilian Church of Hope are eligible for a scholarship set annually at approximately 30% of the price of 6 credits of tuition. To be eligible, students must enroll in at least 6 credits per semester. The partnership scholarships are only available during the fall and spring semesters. In addition, applicants may qualify for a need-based Bethel grant.
As a world-class evangelical seminary with locations in St. Paul, San Diego, and the Eastern Seaboard, as well as a model distance learning program, Bethel Seminary offers several master of arts degrees, a master of divinity degree, a doctor of ministry degree, graduate-level certificates, and a post-graduate certificate. Accreditors have praised the seminary's approach to developing whole and holy Christian leaders through three-part emphasis on biblical / theological foundations, transformational leadership, and spiritual and personal formation.

For more information, please contact the Bethel Seminary Office of Admissions and Recruitment at 651.638.6288 or bsem-admit@bethel.edu.